16 Jan

In 2023, Saf-instant yeast celebrates 50 years of passion!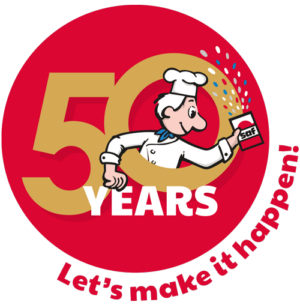 Since its creation 50 years ago, Saf-instant has stood out its reliability and constant performance.

Further to its quality, Saf-instant is distinctive in its innovation. Indeed, it was the first baker's yeast to be sold in dehydrated and then in instant form, which has made it considerably easier to use.
Today, Saf-instant offers a wide range of products to meet the needs of bakers around the world, and is particularly known for its ability to withstand extreme working conditions, making it an ideal choice for professional bakers.

Over the years, Saf-instant has also developed a solid reputation among home consumers for its reliability and ability to produce high quality recipes. Saf-instant is an ally for all parties and birthdays… The brand is inseparable from celebratory events!
Saf-instant has become an iconic brand. In what way?
In addition to the quality and performance of its products, Saf-instant is recognised through its red and white packaging and above all the baker, the brand's symbolic logo! This icon has been cheering enthusiasts on for 50 years now, creating happy stories, marked by times spent with friends or family.
The strength of the Saf-instant brand also lies in its international presence.
Indeed, it is distributed in more than 100 countries and is used by many professionals throughout the world. This reputation has earned it a select place in the world of baking and it has become a true icon.
2023 will be an exceptional year for the brand, with many events, competitions, content and innovations for bakers and consumers. In celebrating its 50th anniversary, Saf-instant is demonstrating its commitment to bakers and consumers around the world, and pledging to continue its tradition of quality and innovation for the next 50 years!