17 Feb

Focus on the 10 finalists of the Saf Challenge

From January 25 to 27, the final phase of the Saf Challenge, a bakery competition organized by Lesaffre, took place in its Baking Center ™ in Abidjan. The Saf Challenge was open to all craft bakers from African countries as well as part of the Indian subcontinent. After a selection phase, 10 finalists from 9 different countries were invited for the final phase: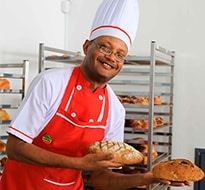 This baker is from Addis Ababa, Ethiopian capital and has more than 25 years' experience in the bakery sector. Formed in one of the capital's most prestigious hotels, Samson masters the art of baking and pastries. Now a master baker, Samson works as a consultant and trainer in several bakeries all around Ethiopia. Coming from a modest family, his dream as a baker is to give unfavorited children a breakfast before they go to school. Samson presented 2 recipes for the Saf Challenge: a chocolate stuffed croissant and a teff seeds bread, a cereal coming from Ethiopia!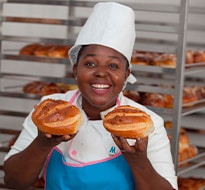 This Nigerian candidate comes from Lagos where she lives since more than 25 years. Member of a cooks family, Olumide once gave help to a craft bakery close to her living and it seemed like a revelation: later, she'll be a baker! After a first part of career out of the bakery paths, she launches in 2016 her own bakery, whose production capacities grow twice in 4 years. But Olumide won't stop here! Her dream as a baker is to enlarge her bakery, modernize its equipment and sell her breads "in all streets of Nigeria". The two recipes she made for the Saf Challenge are: orange zest brioche and coconut bread.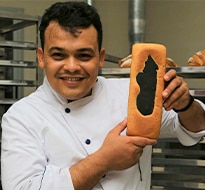 Eric was born and has always been living in Madagascar. He became a baker by coincidence according to his own speech, in 2008. However he straightaway love this noble job and became an independent craft baker in 2017, after he passed all the job steps with his former employer. The Malagasies bakes on-site and only proceeds delivery sales. His ambition is to open a point of sale with a dedicated tearoom and sandwich sales part so neighbors and inhabitants can taste and appreciate its products quality. Eric introduced 2 recipes: a combava laminated brioche and a corn bread.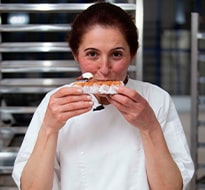 Our Algerian candidate was born in Algiers and works everyday as a baker in her parent's village, Aghribs. Passionate by baking since she was a child, Hayet directly oriented her career to this sector and successfully passed the different steps until opening her own bakery, in Aghribs. "that pleased all villagers!". Her dream as a baker is to enlarge her bakery and modernize its equipment, including a convivial coffee corner in it, in which customers will be able to taste her Danish pastries. Hayet introduced 2 recipes for the Saf challenge final: an "Algerian" brioche, stuffed with Sahara dates and orange and a barley bread.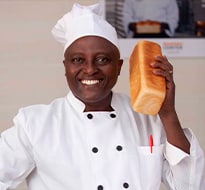 Our Kenyan candidate comes from Nairobi. Passionate by the baker and pretty sure about his career choice, John got his diploma in 1988 at the Superior institute of sciences and technologies, with a baking specialization. From 1989 to 2016, the Kenyan successfully passes all the steps of his employee career, until being Managing Director of the company! Entrepreneur by essence, John decides to live his own adventure in 2017 and opens his semi automatized bakery. His dream as a baker is to keep on improving and acquire a modern and automatized equipment for his bakery. The Kenyan introduced 2 recipes for the Saf Challenge final: a tin bread with high-quality raw materials and a Viennese bread.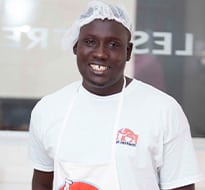 Born in Senegal, this candidate makes his baker job in the neighbor country, Gambia. Lamine is passionate by this art, he now practices for 25 years. Particularly sensible to humanitarian and orphans causes, the candidate aims to feed 100 orphans each day with bread and train young unfavorited people to become a baker. To do this, the Senegalese wishes to open a small bakery with secondhand equipment. The candidates set up a target of 90 youngsters trained in 5 years, a period after which he wants to open a training center. Lamine introduced 2 recipes for the Saf Challenge final: a personal interpretation of the French baguette and a 4 cereals moringa bread.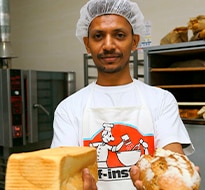 Lahiru comes from Colombo, Sri Lanka's capital. After passing tourism diplomas, the Sri Lankan works as a trainee in Colombo's airport and makes bread for the first time: his life will never be the same again! Lahiru found his way. The youngster makes different trainings and jobs, so his profile gets the most complete possible, in terms of skills and knowledge. This candidate today runs his own bakery and aspires to get a better and modern equipment and then to open his bakery channel in Sri Lanka. Lahiru introduced 2 recipes for the Saf Challenge final: a tin bread with less sugar and more softness and a garlic multi cereals bread.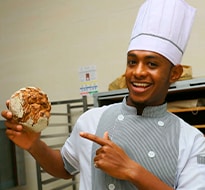 The young Ethiopian baker currently works in a bakery located in Djibouti. For Tameru, baking is a familiar and heart history. Since he was a child, he has always seen his father working in bakeries and thought "this will be my job too!". After he got his diploma from high school, Tameru joins the bakery sector and successfully passes the different steps. He then became in less than 8 years the master baker of one of the biggest bakeries of Djibouti. He now aspires to open his own bakery in Ethiopia. His dream is to commercialize a diversified and qualitative range of breads and train some young bakers, up to 20 a year. Tameru introduced 2 recipes for the Saf Challenge finale: a baguette stuffed with… and a teff (a local cereal) flour bread.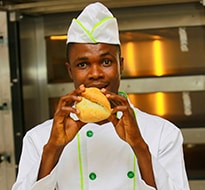 Jean-Marc is one of the 2 local candidates. Coming from Abidjan, the young 28 years old baker got into the baking industry after he missed to pass his access to the health science school, with "no idea about what he wanted to do"! Looking for a position, the Ivoirian registers himself as a bread picker and gets into a sector for which he gets more and more passionate every day. Jean-Marc then successively goes through all positions in the bakery, until becoming a master baker in 2019! However, he doesn't want to stop here and would like to follow international formations so he could open a training center in Abidjan, in which he would transmit his baking passion. The young baker introduced 2 recipes for the Saf Challenge final: a local coffee brioche and a moringa leaves bread.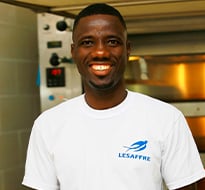 Florent is the adventure's 2nd Ivoirian candidate. Coming from a village in Bocanda's department, he describes himself as an African child! However, he remains attached to his origins and his country. Florent is particularly keen on using local products for bread making. He started his career by selling baking solutions and quickly figured out he could become a baker. He then followed different trainings in various bakeries and today offices as a master baker in Abidjan, where he shares his bread making vision: quality products, better for health and mainly produced with locally sourced raw materials. His dream is to extend his vision to whole Ivory Coast and sensitize the Ivoirian population to his patterns. The candidate introduced 2 recipes for the Saf Challenge final: an honey baguette and a bread made with Ivoirian cocoa beans.